Burrow: Pop-up Restaurant
February 2018 - Cape Town, South Africa
Context
A meal underground. In a deep, warm burrow under the surface of the Earth. What would it feel to smell the soil, to touch the roots above our heads, to hear only faint sounds from outside? What type of meal would it be when the food is served from above, from a cercle of light on top of our heads? I was also interested to push further this idea of minerality to the food and its accessories
As theater-restaurant makers, how can we create those sensation without bringing our guests to the closest mine in the region? The challenge is to recreate this multi-sensorial experience AND the feeling of going litterally down "under" in normal one-level space of a populated area. Wasa it important to recreate this feeling of confinement or would it be  
Many factors were to be explored in the ambiance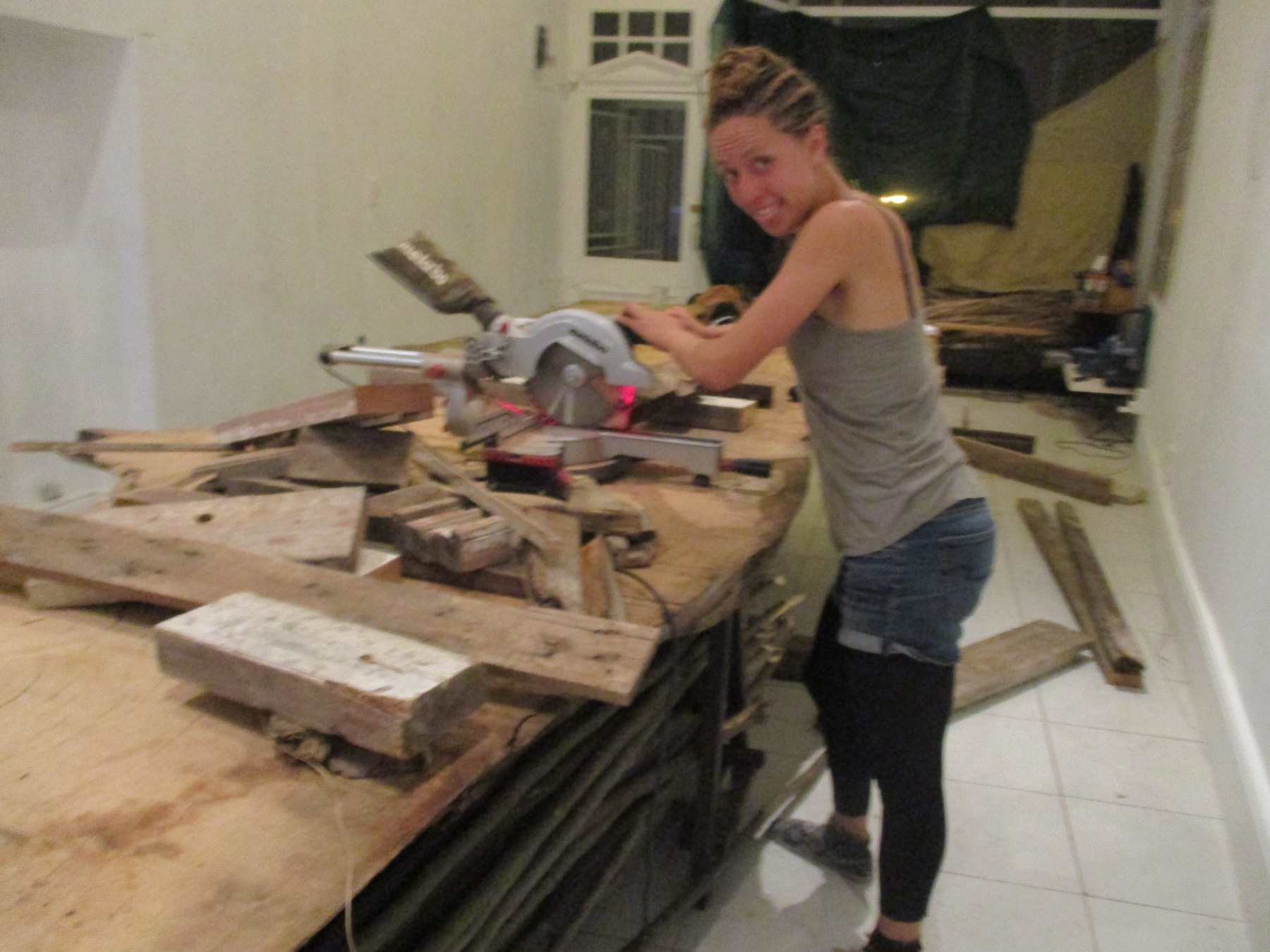 Description of the event
I was offered a place for few days at the IMAGINARIUM Gallery in the coastal neighbourhood of Muizenberg in Cape Town in South Africa. We built with local flexible woods sticks (usually used for traditional huts) an igloo-shape abode. The eaters would have to crawl in the pop-up restaurant like in a cave. The floor would be covered with sand from the beach in front the gallery. A great big oak table cut in the space for the guest to eat standing up. A hole on top of the structure will be the from where the dish are delivered down with a rope.
The local collective The Hive helped with the realisation of the event. Two great local builders, Abosh and Thulani, and the vegan cathering chef Danyale Fensome worked hard in the last week before the event. 
The menu was conceived around the themes of minerality, various clay textures and that the ingredients where all harvested, fished from this land, baked by its people. Groundeness was important.
The appetizer aims to underline the importance of textures in the act of feeding. The artist created textures spoons that would challenge the tongue and lips. Because all guest were first blinded with scarves before coming in the space, all those sensations were hightened. The spotlight coming from the ceiling hole of the burrow warmed the skins. They however had the choice to eat only an iron-pill, that would sustain their iron input for the day, but that did not bring them any corporal stimuli. The mistrust for the industrially created supplement was obvious amongst the guests.
The main dish was fish from the harbour served with cooked root vegetables that the eaters had to pull "from the roots" above their head. The bread was made with pumpkin from a local baker of a surrounding village. Vegan options were available. The food was 
The guest had removed the blinding scarves and could contemplate the descent from the ceiling of a large dessert platter with various tasty fruits and chocolate mousses, sprinkled with crumbles, that looked like soil.  
MENU
Appetizer
High in mineral squash soup served in local pottery and eaten with textured spoons
OR
Iron-pill
Main Dish
Local fish, root veggies, local pumpkin bread, served in local pottery
Dessert
Soil-looking mousses and crumbles to shovel in your mouth
To drink
Red or white South African wines from the northern regions
Lemon waters served in locally-made clay cups
The feeling of conviviality was surprisingly very strong at the end of each of the four waves of people who came to eat. The idea of an isolated, warm, confortable cocoon, after and good meal and drinks, was favorable to it. The burrow was not confinement when food was present, it was gathering.